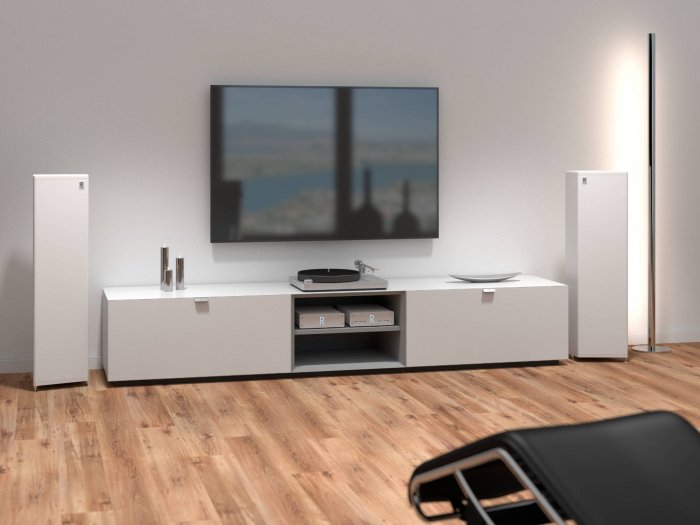 The optimal integration of a loudspeaker into the living room landscape not only requests particularly high demands at its aesthetics, it raises fundamental audio spatial problems with room acoustic issue, which we cope through the full Bipolar technology. With the ROWEN Symphony line we succeeded in getting substantially closer to a concert-like rendition of music under living room conditions. With this circularly radiating sound columns ambiance and performance stage appear so authentically that the atmosphere of the concert hall becomes experience in your living room.
ROWEN Symphony loudspeakers
Boxes simply equipped with loudspeakers at the front only partly consider the acoustic conditions in the living room. They act only within the basic tone range as circular emitters. Reflections at walls, ceilings or floors cause overvaluation of the basic tone portions in terms of energy. The frequency linearity for direct sound and ambient three-dimensional sound are therefore not congruent. This problem is taken in account with our Symphony line with the so-called full Bipolar principle. The entire Frequency spectrum is rendered evenly to front and back, giving these loudspeakers circular radiation characteristics.
We are convinced that additional effort of the doubled equipment with high and mid tone is inevitable, if highest standards are to be met at the rendition of sound. With the full Bipolar the frequency linearity of the Direct sound and the ambient three-dimensional sound is almost congruent. This results in open and clearly transparent sound characteristics with fine, natural brilliance and warmth of music rendition. The models of the Symphony Series play each kind of music with large implicitness. Listening to music at home gets a new dimension - the one of a concert hall.
With the Symphony loudspeakers (excepting S2) the belated extension to the ROWEN Bi-Active-technology is possible. The increase of dynamics and detail fidelity delivers musicality and the character of a live performance even more clearly. With an increasing listening experience and the requirements grown accordingly you can let the ROWEN Loudspeakers gradually grow along.